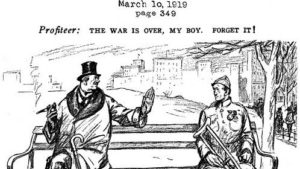 C'est à 22 ans, en 1963, que Bob Dylan écrit Masters of war (Les maîtres de guerre). Formidable missile contre les fauteurs de guerre, qui tirent profit de la destruction d'humains, d'habitations, etc.
Et il ne mâche pas ses mots : « Et je lis dans vos pensées/Aussi clairement que/Dans l'eau trouble des égouts. »
Dylan désavouera cette chanson assez vite et ne la chantera quasiment jamais, sans doute sur pression d'Israël, qu'il a toujours soutenu, témoin sa lamentable chanson de 1983, Neighborhood Bully.
Pourtant Masters of war visait juste, pointant tous les responsables des guerres, politiciens et industriels. Les guerres sont inhérentes au système capitaliste, lequel est personnifié par ces tristes personnages. Il ne s'agit pas de changer de responsables, de politiques, non, il faut tout foutre à la poubelle ! Comme le Dylan de 1963 nous le suggère. Et nous irons cracher sur les tombes de ces salauds, après avoir, comme dans la chanson, vérifié qu'ils sont bien morts !
Parmi le grand nombre de reprises, il existe, en 2000, une savoureuse version bilingue, néerlandais-anglais, de Wannes Van De Velde et Roland Van Campenhout :
---
Paroles
Come you masters of war
You that build all the guns
You that build the death planes
You that build all the bombs
You that hide behind walls
You that hide behind desks
I just want you to know
I can see through your masks
You that never done nothin'
But build to destroy
You play with my world
Like it's your little toy
You put a gun in my hand
And you hide from my eyes
And you turn and run farther
When the fast bullets fly
Like Judas of old
You lie and deceive
A world war can be won
You want me to believe
But I see through your eyes
And I see through your brain
Like I see through the water
That runs down my drain
You fasten all the triggers
For the others to fire
Then you set back and watch
When the death count gets higher
You hide in your mansion'
As young people's blood
Flows out of their bodies
And is buried in the mud
You've thrown the worst fear
That can ever be hurled
Fear to bring children
Into the world
For threatening my baby
Unborn and unnamed
You ain't worth the blood
That runs in your veins
How much do I know
To talk out of turn
You might say that I'm young
You might say I'm unlearned
But there's one thing I know
Though I'm younger than you
That even Jesus would never
Forgive what you do
Let me ask you one question
Is your money that good
Will it buy you forgiveness
Do you think that it could
I think you will find
When your death takes its toll
All the money you made
Will never buy back your soul
And I hope that you die
And your death'll come soon
I will follow your casket
In the pale afternoon
And I'll watch while you're lowered
Down to your deathbed
And I'll stand over your grave
Til I'm sure that you're dead
---
Vous, maîtres de guerre,
Qui fabriquez toutes ces armes,
Qui construisez ces avions de mort,
Qui produisez toutes ces bombes,
Qui vous planquez derrière des murs,
Qui vous terrez dans vos bureaux,
J'aimerais que vous sachiez
Que je vous ai démasqués.
Vous qui n'avez jamais fait que
Construire pour mieux détruire,
Vous vous amusez avec ma planète,
Comme s'il s'agissait de votre petit jouet.
Vous m'avez mis une arme dans la main,
Et vous avez disparu
Pour vous planquer bien loin,
Quand les balles commencèrent à siffler.
Comme Judas, jadis,
Vous mentez et vous trompez.
Nous gagnerons cette guerre mondiale,
Voulez vous me faire croire,
Mais je vois dans vos yeux
Et je lis dans vos pensées
Aussi clairement que
Dans l'eau trouble des égouts.
Vous tendez l'arme aux autres,
Pour qu'ils tirent à votre place.
Et, confortablement installés,
Vous contemplez les morts s'entasser.
Bien à l'abri, dans vos demeures cossues
Pendant que le sang de la jeunesse
Ruisselle de son corps
Et se mêle à la boue.
Vous avez commis la pire horreur
Qu'on puisse imaginer
Mettre au monde
Des enfants
Pour menacer, celui
Qui portera mon nom.
Vous ne méritez pas le sang
Qui coule dans vos veines
Suis-je assez pertinent
Pour donner ainsi mon avis ?
Vous pourriez penser que je suis bien jeune,
Vous pourriez dire que je manque d'expérience,
Mais il y a une chose que je sais
Malgré mon jeune âge,
C'est que, même Jésus,
Ne pardonnerait jamais ce que vous faîtes.
Puis-je vous poser une question ? :
Votre argent suffira-t-il
Pour racheter votre pardon ?
Croyez-vous cela possible ?
Je pense que vous réaliserez
Quand la mort vous demandera de rendre des comptes,
Que tout le fric que vous avez amassé
Ne suffira pas pour racheter votre âme
Je souhaite votre mort
Et j'espère qu'elle est proche !
Je suivrai votre cercueil,
Par un pâle après-midi
Et lorsque l'on vous portera
Dans votre ultime demeure,
Je me tiendrai là, au-dessus de votre tombe
Pour m'assurer de votre mort.